Police officer shot dead at Croydon Custody Centre
Police officer shot dead at Croydon Custody Centre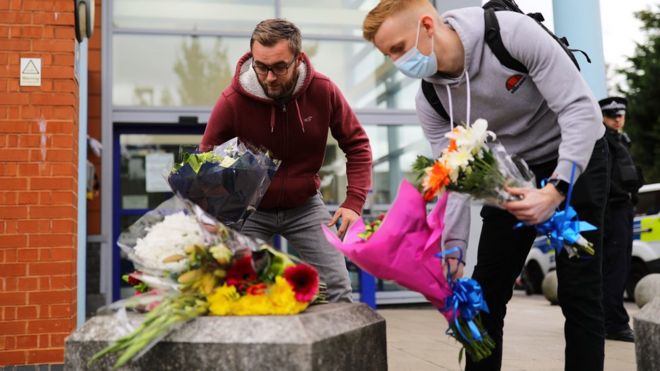 A police officer has been shot dead at Croydon Custody Centre in south London.
The male sergeant was shot in the chest when a man, who was being detained, produced a weapon during a search. The suspect then apparently shot himself.
The officer was treated at the scene overnight but died in hospital. A 23-year-old man is in a critical condition after being treated for gunshot wounds.
Met Police Commissioner Cressida Dick said: "We are all deeply shocked and very sad."
"I have visited and spoken to our officer's partner together with other colleagues and we are of course giving her the best support we can," said the Met chief.
"My heartfelt condolences go to her, to their family, to his colleagues and his close friends.
"A murder investigation is under way and officers are working at several crime scenes to secure evidence and to establish the facts of what happened.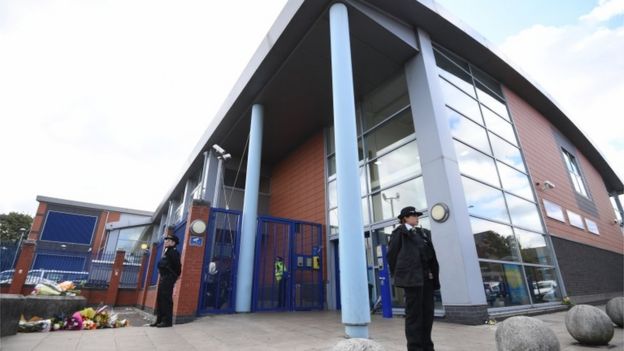 "Early indications are that the suspect shot himself, this has not yet of course been established as a fact."
The suspect, who is believed to have been detained for possessing ammunition, has since been arrested on suspicion of murder.
The victim is believed to have been a few weeks away from retirement.
No police firearms were discharged during the incident, which happened at about 02:15 BST at the Windmill Road centre, the Met Police said.
Prime Minister Boris Johnson, said: "We owe a huge debt to those who risk their own lives to keep us safe."
In a post on social media he also said: "My deepest condolences go to the family, friends and colleagues of the police officer who was killed in Croydon last night."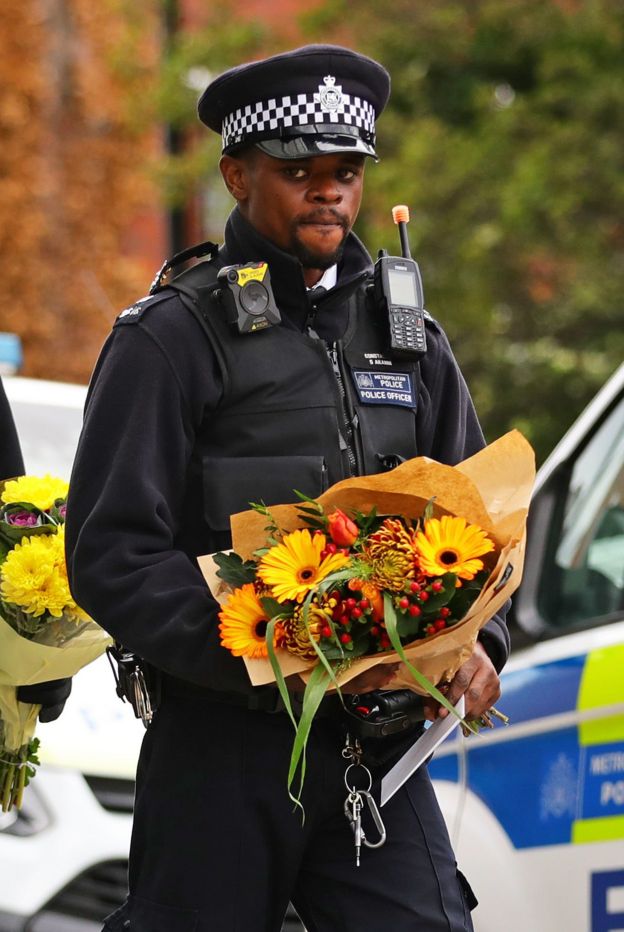 Asked about how someone could enter the building while armed, Leroy Logan, a former Met Police superintendent, said: "It depends if that person was arrested outside the police station and has been transported in a vehicle.
"There are circumstances where someone might turn up at the custody suite area itself and be led straight through.
"So not knowing all the details - how this person got into the secure area of the station or whether it's outside the building or in the yard - we just need time to try and find out what has happened, because the details are very scant at the moment."

This appalling incident in Croydon appears to be absolutely unique - an officer shot by a man who was already inside a police facility - and the shock felt today underlines how rare it is for police officers in the UK to be killed by a suspect in the line of duty, relative to other nations.
The Metropolitan Police officer shot dead in Croydon is the 17th from the force to have been killed by a firearm since the Second World War.
But since the beginning of the 20th Century only 73 police officers have been shot and killed by criminals in the UK, excluding all deaths in Northern Ireland.
The majority of those deaths - more than 50 - have occurred since 1945.
Police officers in other parts of the world are often puzzled why British constables are not routinely armed. But the fact is that there are very few criminal guns in circulation - and the culture of policing has never seen it as acceptable to be universally armed.
However, Tasers are increasingly a common sight in the UK - and a massive survey of police officers recently found three-quarters would carry one of the less-than-lethal devices on the frontline, if given the choice.

Yogarajah Emmanuel, 43, who runs a shop opposite the custody suite, said he woke up at 02:30 BST to the sound of sirens.
"I looked out of my window and could see three ambulances," said Mr Emmanuel.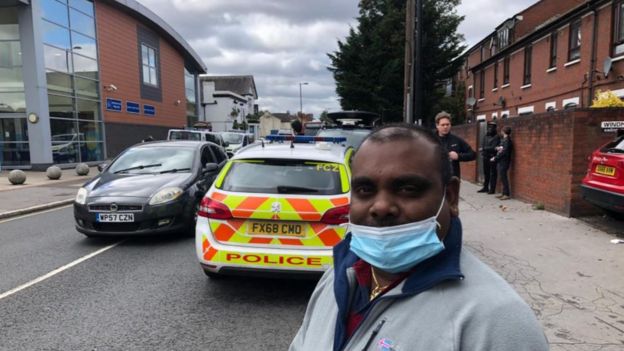 "There was noise and all of a sudden one ambulance from inside the car park came out and sped off.
"This morning I heard it was a police officer and just felt so sad. They are all very good people and wave and say hello when they come to my shop."
Latest updates on investigation into officer's killing
The Reverend Catherine Tucker, who was at the centre earlier, said: "The action taken against the police is really unacceptable but I also feel sorry for the perpetrator."
The reverend, who went to the centre to see if anyone needed prayer or support, added that she was "sadly not surprised" to learn of the shooting.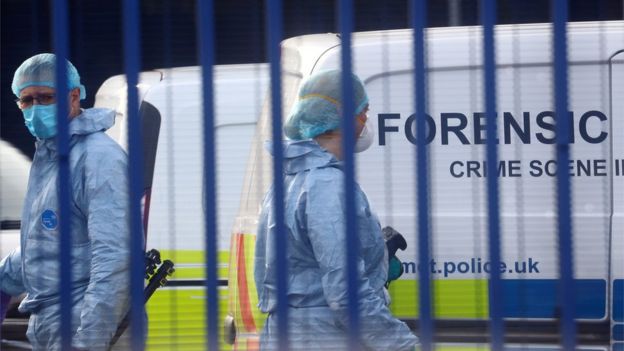 It's a cold and windy morning in south London and Met Police officers have been standing outside the custody suite doing something they dread - mourning one of their own.
Several bouquets of flowers have been placed outside the building in memory of the man who was shot.
Residents who live opposite have shared their shock and disbelief that such a tragic murder has happened so close to home.
Forensic teams have been spotted in the nearby yard gathering evidence, while other officers can be seen inside the suite carrying on with their duties.

'Sick to their stomachs'
Ken Marsh, chairman of the Met Police Federation, said news of the shooting was "utterly devastating".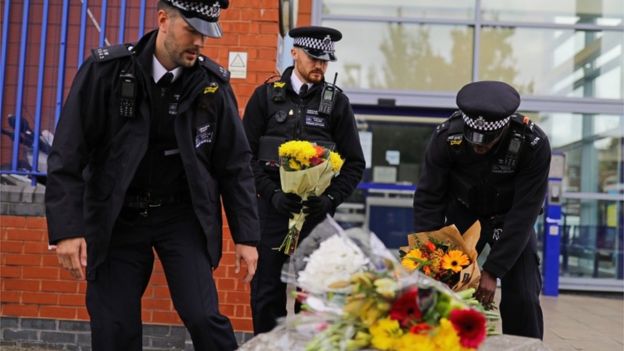 "Officers across London are in shock and sick to their stomachs at the nature of his death," he said.
"Sadly, on very rare occasions officers make the ultimate sacrifice whilst fulfilling their role. When that happens we will ensure their bravery and sacrifice is never forgotten."
The incident has been referred to the Independent Office for Police Conduct (IOPC), which will lead an independent investigation.